I've been working more on updating this site. I'm going to give blogging a fair shake this time. Last night, I migrated all my articles from www.sweatsmart.com over to the new Triathlon Journal (http://triathlonjournal.dandonovan.ca) area of this site.
For tonight's tasks, I'm going to get started messing with the WordPress themes to personalize my site a little. I'm not looking to do anything fancy, but I've got to put in a little effort here to make the site my own!! You'll see the results, and I'll let you know how much trouble I have with it.
One last thought – I think I'm going to love using this BlogDesk tool. I discovered it while poking around in the WordPress documentation, and installed a couple nights ago. Installation was smooth, and connecting to my blogs was painless. I've written a couple posts using it so far, and it's great being able to post articles from the desktop. Just open the handy editor, type away, and hit the Publish button!! Makes blogging a snap! I think this may be the key to me posting more regularly!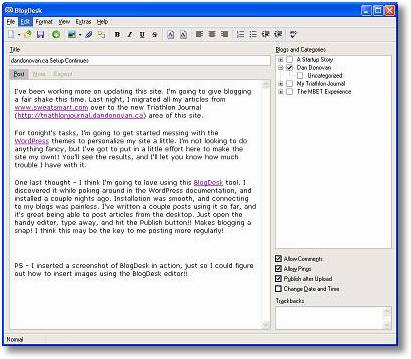 PS – I inserted a screenshot of BlogDesk in action, just so I could figure out how to insert images using the BlogDesk editor!!
PPS – Wow!! That was smooth!! Lets you edit the size, position relative to text, etc. Very cool! Did I mention I like this tool?
PPPS – Ok… it took me three tries and some reading of the help files, but I blame myself for not reading closely enough. I discovered some new image features along the way (adding shadows, cropping, etc). BlogDesk rocks!!
Leave a Reply